GUINNESS WORLD RECORDS™ ATTEMPT FOR LARGEST PARADE OF JEEPS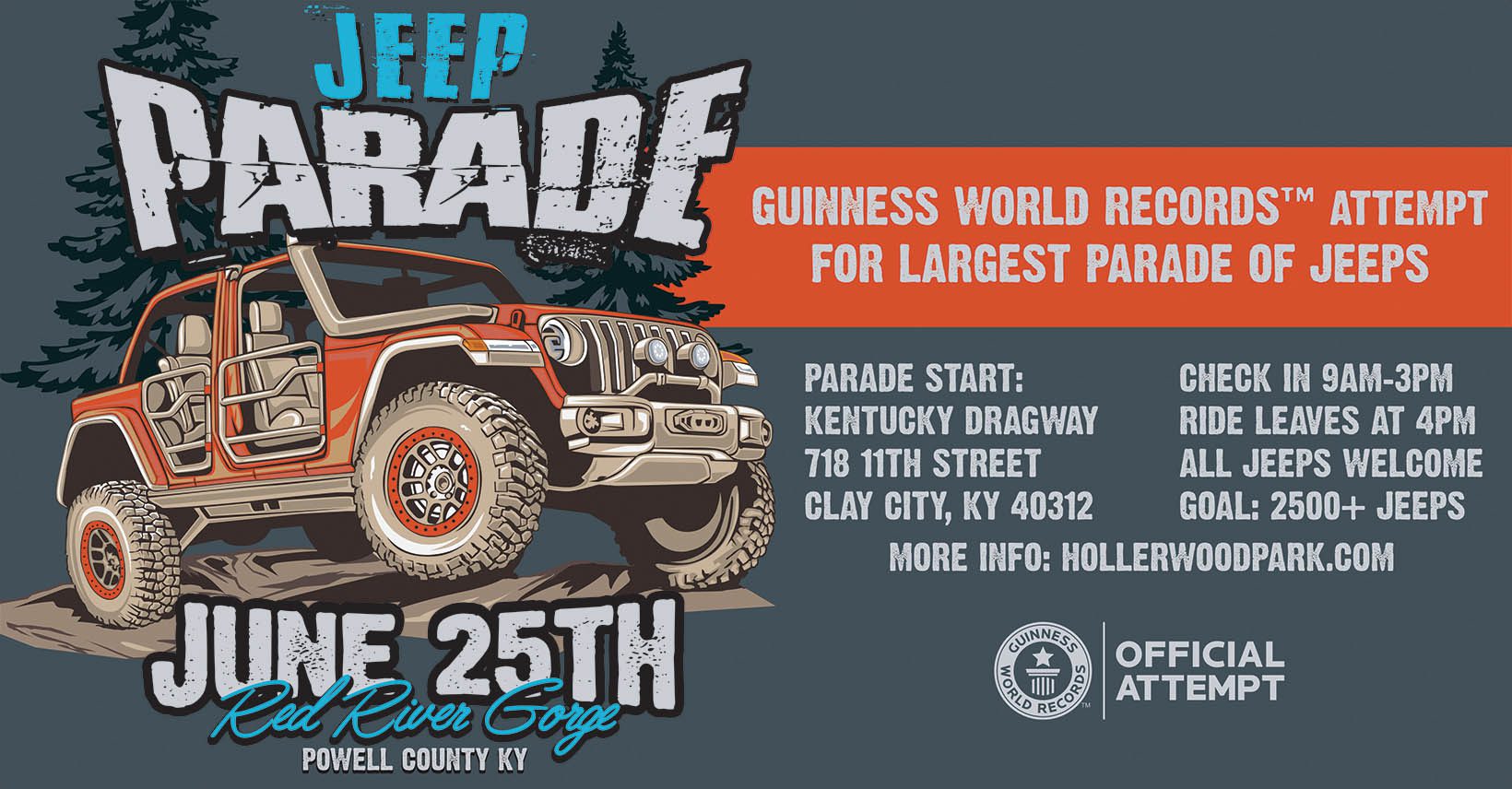 Parade Start
Kentucky Dragway
718 11th Street
Clay City, KY 40312
Event Time
Check in 9am-3pm
Ride Leaves at 4pm
Our Goal
2500+ Jeeps
All Jeeps Welcome
Registration will begin at 9am at the Kentucky Dragway in Clay City, Kentucky. This is where the parade will be staged.
This event is open to any and all models Jeep vehicles. The drivers do have to have a valid license and the Jeep must be street legal.
Shuttle services will be provided by Leave No Trace Adventures and YPK MOTORSPORTS. You can shuttle to the River Bottom Festival, any Clay City business and to several drop off locations in Stanton.
The River Bottom Festival will have live music, corn hole tournaments, vendors, food, alcohol sales and more!
Stanton and Clay City businesses will be open with special hours so you can shop and eat while you wait for the parade to begin.
Registration closes at 3pm and parade will begin at 4pm. Please also fill out the pre-registration form on the website to help our planning.
Although you don't have to decorate your Jeep to participate, it is a parade! Since the infamous Jeep wave has military roots we themed the parade "Freedom in the USA". Decorate your rig if you want to!
Whatever you do, get registered for this event! You don't want to miss it!!
Spread The Word
We need help to get 2500 Jeeps! Please share the Facebook event to all your friends, family and fellow Jeepers!
We are asking that all Jeep Owners pre-register for the event to assist in our planning. Please fill out the form below with your information.